Latest news By Lisa Watson
So lovely to see one of my Quilt commissions featured in the June edition of The Simple Things magazine. Such a sweet article about Sharon's husbands shirts that I stitched into a Patchwork Memory Quilt for her.
Really excited to be featured in Woman&home March issue 2022, looking at my small Made in GB textile business and specifically my Patchwork Quilt Commissions. Thank you to Kim for the article, and the talented Jo Bradbury for the images, plus the lovely Laura for loaning her home for the photoshoot
It is thrilling to have an article on By Lisa Watson (That's Me!) included in my Local Chorlton Open Up Magazine Jan-Feb 2021
I'm glad to be part of Manchester Art Gallery & Blue Patch online shop collaboration providing essential support during the pandemic both for the local economy and the museum itself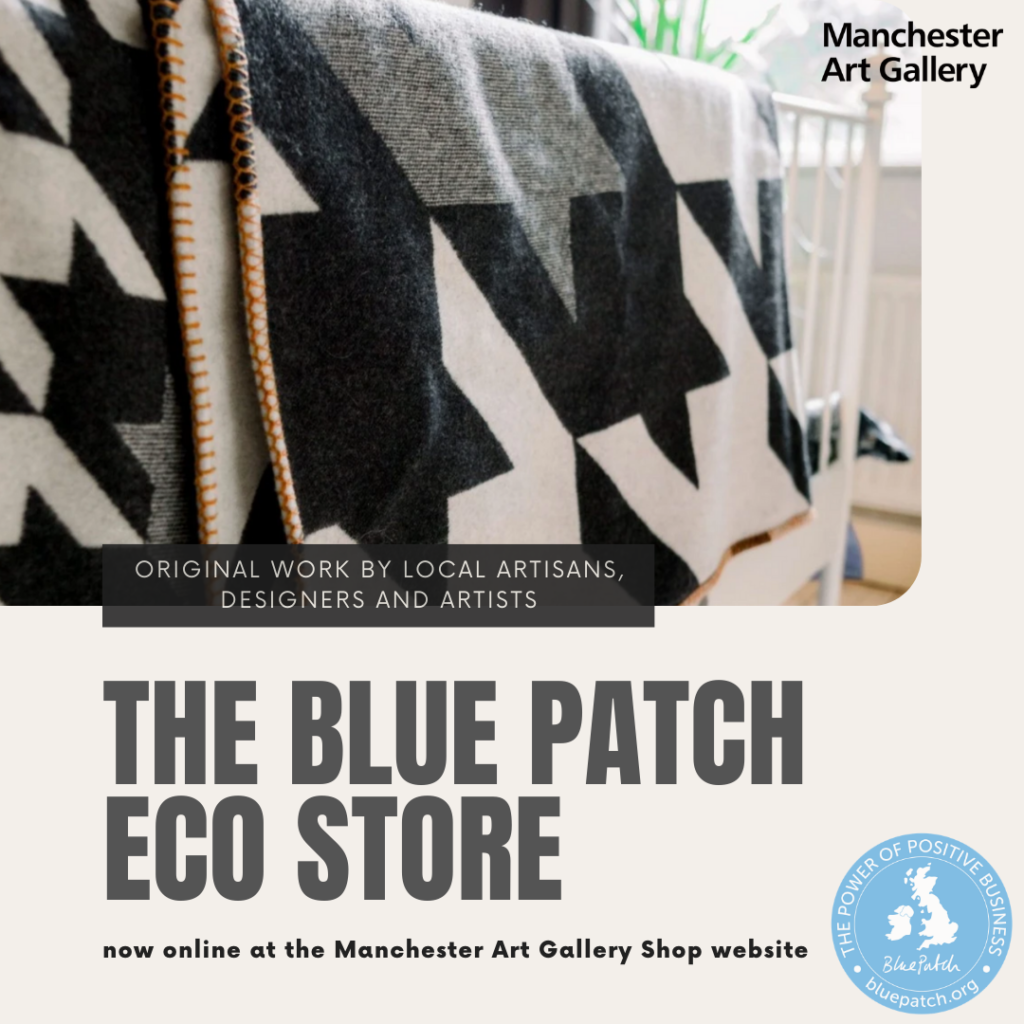 By Lisa Watson is excited to be taking our distinctly British Cushions to Scotland's Trade Fair at the SECC this 19-21 January 2020. Find us on stand CG54
Thank you Lancashire Life for including a double-page spread on By Lisa Watson with a special feature on my Folklore Fabric collection in their August 2018 magazine. Find out more on p198.
Blue Patch, the sustainable marketplace for UK design, ethical fashion, eco-furniture, green gifts, organic & fair trade food have included us in their Lookbooks 2018. Find By Lisa Watson on page 23!
How exciting to be asked to be filmed as part of this years The National Festival of Making by the talented Northern Heart Films
By Lisa Watson are pleased to be included in Feedspot Top 40 UK Quilting Blogs. Find us at No10!
Our hot pink Harris Tweed quilt was mentioned in a Valentine's Day Abundance of Love Blue Patch blog;
By Lisa Watson is excited to be taking her distinctly British quilts, cushions & more to the following trade shows this January;
At Top Drawer, find me on stand CR110
At Scotland's Trade Fair, find me on stand E82
Thank you to Lily Blanche Jewellery for sharing on Facebook a video of me at Scotland's Trade Fair.
From Thursday 21st to Sunday 24th September By Lisa Watson was at the London Design Fair as part of the Blue Patch stand. Our Folklore Fabric, knitted blankets & quilted shirt quilts were all on the stand and here is the Blue patch blog about this exciting event.
Thanks to sizzlestitch for including ByLisaWatson in their feature on Top Craft Blogs (I'm no 118!)
By Lisa Watson enjoyed being part of;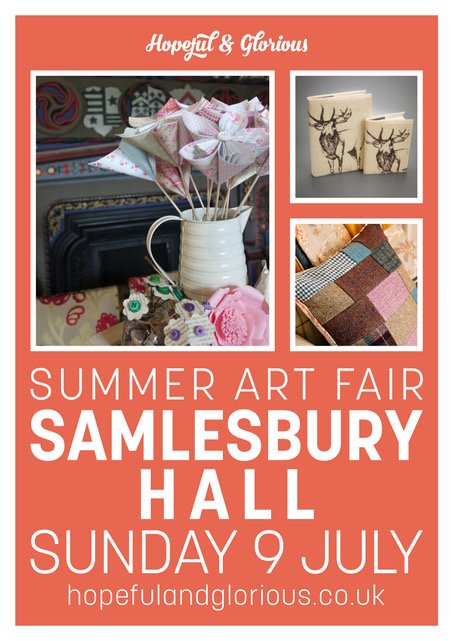 In June By Lisa Watson was delighted to team up with Wolsey Lodges who provide the finest lodgings and hosts, to offer their members;
By Lisa Watson is now part of ;
On Sunday 11th June By Lisa Watson was pleased to be part of Sale Arts Trail; Read Lisa's Q&A as part of the Artist Takeover;
By Lisa Watson has the pleasure of being included in Simply Cheshire Spring Fair at Arley Hall on 20th & 21st May.
At the beginning of April By Lisa Watson was exhibiting at BCTF17, a trade show showcasing the finest Made in Britain crafts
By Lisa Watson Folklore Fabric is included in a British Craft Trade Fair promotion in the March/April Crafts Magazine. I'm on page 39…
Thank you Make It British for including By Lisa Watson in their celebration of the Top 20 British Home Textile Brands blog
By Lisa Watson is pleased to be featured in Good Housekeeping April issue;
Project Calm Magazine has sweetly included my quilted shirt quilts in an Scandinavian Gatherings article;
I took my NEW Folklore fabric and all my By Lisa Watson distinctly British quilts, cushions & more for your home to Top Drawer.
Exciting to be included in – Blue Patch film: The UK's First Pop-up Sustainable Department Store
Quilts By Lisa Watson features in the October & December WOI Design Report
Find Quilts by Lisa Watson on p154 in the September WOI
Quilts By Lisa Watson are thrilled to be featured in the official commemorative album for The Queen's 90th Birthday Celebration at Windsor Castle in May 2016. Quilty Pleasures can be found on p167.
Quilts By Lisa Watson are pleased to be featured in the June World of Interiors, Material World feature. See p253 for further details x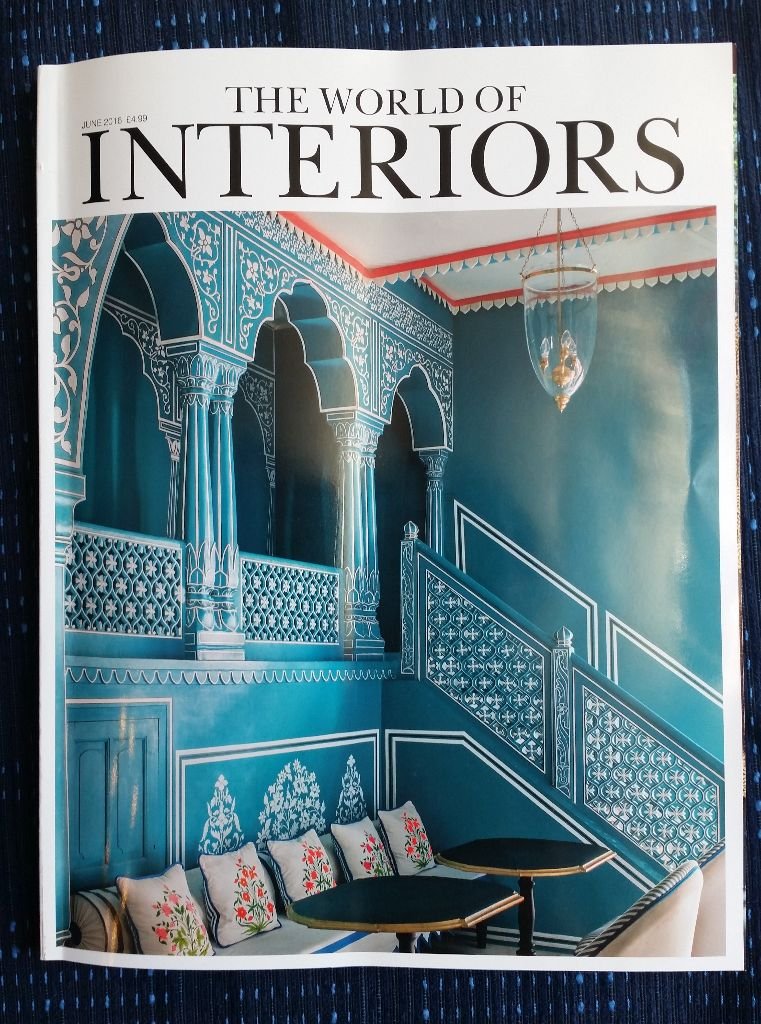 I have to just mention that my Quilts& are part of a British Craft Trade Fair feature in this March/April 2016 Crafts magazine!
Quilts by Lisa Watson have been featured in several recent Homify articles, 15 original ideas to decorate your home… 9 Hong Kong roof terrace essentials How to Design a Country Chic Style Bedroom Magical Ways to Make Old Furniture Look New Invitados inesperados? Así se limpia la casa a la velocidad del rayo Preparing Your Home For Christmas  7 truques para impressionar uma mulher com a sua casa! Como preparar a casa para o Airbnb? & S'Aménagez un coin Lecture Cosy et Chaleureux!!!
I am thrilled to be included in Merchant&Makers on-line archive of makers and really enjoyed&appreciated Jenny's article on quilts& Quilts by Lisa Watson.
Quilts By Lisa Watson are part of Life's Little Luxuries on p208  in The December issue of The World of Interiors magazine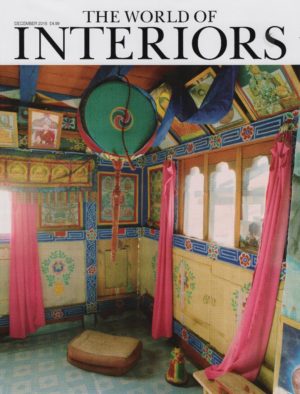 Why I do what I do…Lisa Watson is an in depth feature on the Blue Patch blog
A quilt will warm your body and comfort your soul. Lisa talks about her quilts in the November issue of Popular Patchwork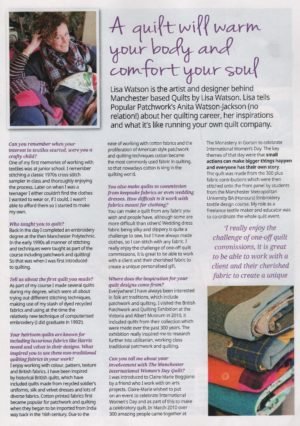 Our distinctly British Harris Tweed quilts are featured in Novembers The World Of Interiors magazine p191
Well, this is exciting news. I have been included in That's English, a language teaching programme, similar in content to our educational OU programmes and aired on Spains TV2. The film is about Starts ups; how to turn your business idea into a reality and I was filmed for this last September. Here's my previous blog http://www.quiltsbylisawatson.co.uk/im-going-to-be-on-the-telly/
and more importantly here's the youtube link for the whole programme (I appear at 2.25; 4.18 & 5.12!)
The programme might not be a youtube sensation (yet!), but I am really pleased to be included in it.
Westminster Abbey was the impressive and ideal venue for the launch of Parliament 750, The Story Of Parliament celebrating 750 years of parliament in Britain. Quilts By Lisa Watson is thrilled to be included within The Made in Britain section; Parliament 750
Thrilled that Quilts by Lisa Watson are featured in the March 2015 Irish Tatler magazine
Click to open Quilts by Lisa Watson featured in Irish Tatler March 2015
Quilts by Lisa Watson included in a Cosy Weekend Indoors on-line article in Homify https://www.homify.co.uk/ideabooks/11502/a-cosy-weekend-indoors
I am featured in the August editions of The English Home and the Totally Tweed Scottish Field;
In July, Blue Orchid (UK business start up and growth agency) wrote a blog about me and my quilts; http://www.blueorchid.co.uk/2014/07/a-quilt-will-warm-your-body-and-comfort-your-soul/
At the end of April the first Home Is In The North was staged. Here is an eloquent review of the event by wordsmith Matt from Northern Letters; http://www.northernletters.co.uk/home-manchester-interior-design/
In the run up to this years Selvedge Spring Fair, I was featured in the folksy weekly; http://us2.campaign-archive2.com/?u=3d1c6a149b4d82013b3fd0b15&id=df90cc557b
Did I mention I was on app; http://www.apple.com/itunes/affiliates/download/?id=767594981 & http://206.132.97.72/frontend/made-in-britain/Templates/index.html
Here is a link to an on-line article for Prowess, a women in business website daily; http://www.prowess.org.uk/why-making-it-british-matters
Here is an article on my quilts featured in Cheshire mums magazine, winter 2013;
Thanks to @lisawatso for the most fabulous quilt ever. Isn't it gorgeous!!! And in my favourite colour…Green!
@CMBoggianno – June 9
I bought Lisa's 'sunshine yellow velvet and subtle blues, browns and greys Harris Tweed, quilt. Just love the fabrics, colour combinations and the workmanship is superb.
DAI-AN CRAIG – AUGUST 20
Oh my, my, my! Lisa, what a beautiful thing you create! They are heavenly beautiful! Simply, I am glad I came across your work and brought them!!!
KAORI LAIRD – SEPTEMBER 3
I am so pleased with my beautiful quilt. The colours are lovely and they tone in really well with our bedroom colours.
MARION – NOVEMBER 15
Lisa is very proud of her quilts and justifiably so. I have never seen any like them, photos do not do them justice.
GEOFF & NICOLA – SEPTEMBER 5